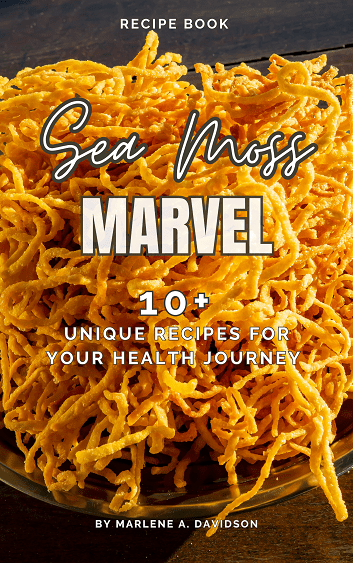 Welcome to a Flavorful Adventure!
Hello, fellow food enthusiasts and wellness seekers! Today, we'll embark on a culinary journey like no other. Picture vibrant ingredients, delightful flavors, and a touch of magic. I'm Marlene A. Davidson, and I'm thrilled to introduce you to the enchanting world of "Sea Moss Marvels: 10+ Unique Recipes for Your Health Journey."
A Taste of the Ocean's Wonder
If you've ever wondered about the secrets hidden beneath the waves, you're about to experience a taste of the ocean's wonder right in your kitchen. Hailing from the beautiful island of Tobago, Trinidad & Tobago, our journey begins with sea moss, a mystical and superfood ingredient that has been celebrated for its remarkable health benefits and unique properties.
From Ocean Depths to Your Plate
Sea moss, also known as Irish moss, is a type of nutrient-rich seaweed that has been used for centuries in various cultures for its potential health-promoting properties, including the Caribbean. But what makes sea moss truly extraordinary is its ability to enhance your culinary creations in ways you've never imagined.
Elevate Your Dishes with Sea Moss Magic
"Sea Moss Marvels" is not just a collection of recipes; it's a journey of flavors, wellness, and creativity. With each dish meticulously crafted to combine the nourishing qualities of sea moss with the pleasure of savoring delicious meals, you're in for a treat that nourishes your body and delights your taste buds.
A Symphony of Flavors and Wellness
Imagine sinking your teeth into super-moist Blueberry Sea Moss Muffins that burst with antioxidants, or sipping on a Tropical Sea Moss Sorbet that transports you to the sun-soaked beaches of the Caribbean. With Sea Moss Pineapple Salsa and Creamy Sea Moss Smoothie, your taste buds are in for a symphony of flavors that sing with each bite.
Delightful Stories Await
But there's more to this culinary adventure than just recipes. At the end of each creation, you'll find whimsical stories that add a touch of enchantment to your cooking experience. These stories, born from imagination and a passion for good food, will leave you smiling and inspired, ready to embark on your own culinary adventure.
Embark on the Journey
Are you ready to dive into a world where culinary creativity meets the nourishing power of sea moss? Get ready to explore the recipes, stories, and health benefits that "Sea Moss Marvels" has to offer. Whether you're a seasoned chef or a curious novice, there's something here for everyone.
Stay tuned as I uncover the magic of sea moss and guide you through a wellness journey that is as delectable as it is enlightening. In the coming days, we'll take a closer look at the recipes, the stories that accompany them, and the ways sea moss can elevate your health journey.
Thank you for joining me on this flavorful adventure. Let's savor every moment and every bite together!
Stay tuned for tomorrow's post as I delve into the scrumptious recipes that await you. Until then, embrace the magic of sea moss and the joy of culinary exploration.
With excitement and anticipation,
Author of "Sea Moss Marvels: 10+ Unique Recipes for Your Health Journey"